An advanced excel table for your equipment
Save up to 30% of your resources on keeping your physical assets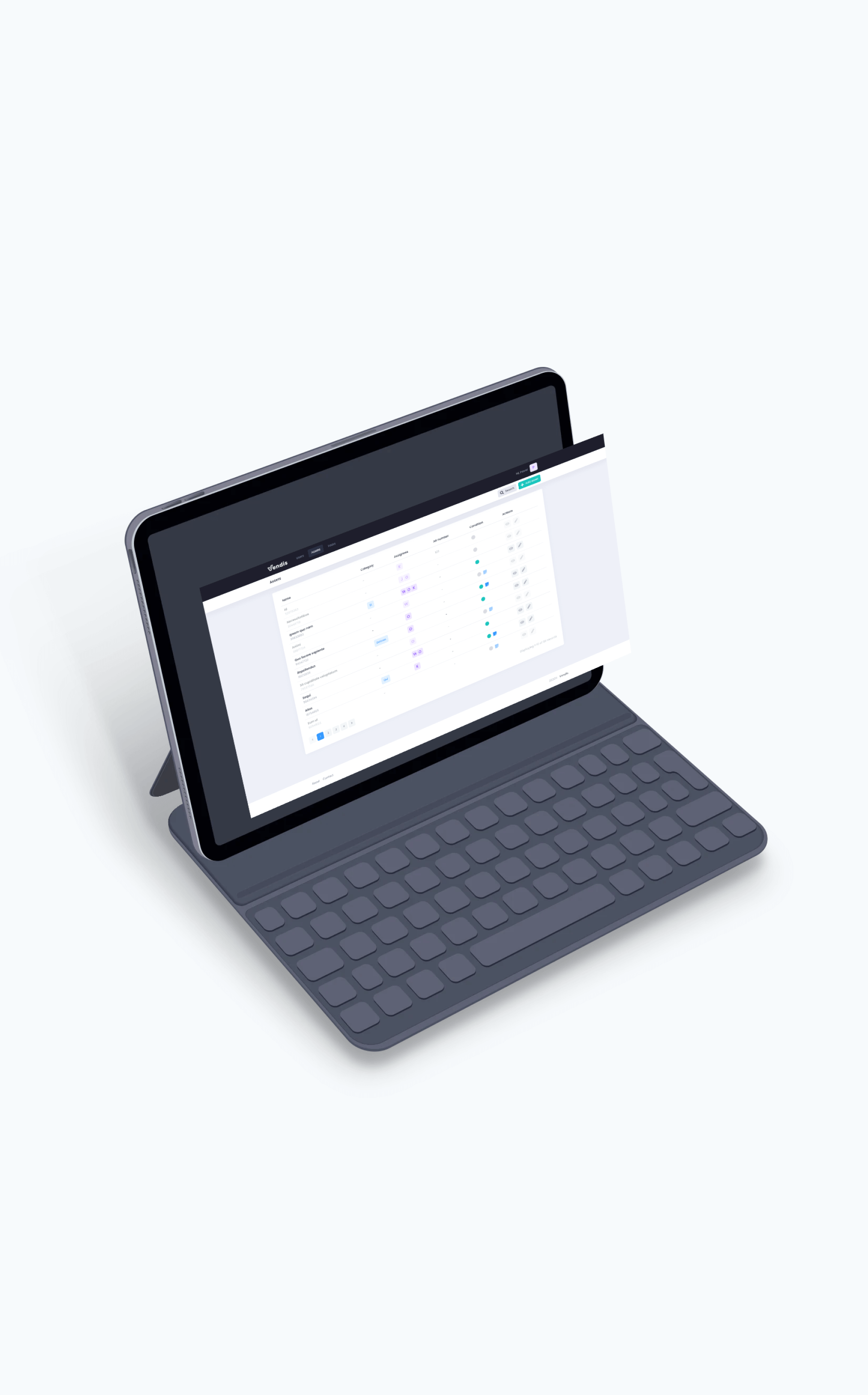 What is Vendis?
Vendis is a web app that offers a bunch of tools to store and track all necessary information about your equipment. How can you benefit from using it?
Keep organised

Have a clear vision how your assets are doing and what should be upgraded or fixed next.

Be always aware

Stay informed about your assets with automated alerting system.

Reduce costs

Save up to an average year salary of an employee by simplifying problem reporting procedure.

Analyse

Improve your business by getting access to key analytics based on events and reports.

Count on us

Our technical support is always ready to help you get the best out of Vendis.
Features
Still accounting your equipment in plain tables?
See what instruments Vendis offers to do it in a more flexible way.
Equipment supervision
Have a customizable overview of your assets.
Task tracking
Assign tasks on assets and track the progress of each.
User management
Create users and define their fields of responsibility by roles.
Issue tracking
Record and overview a history of issue occurrences.
Export
Download your data in a good old CSV format.
Problem reporting
Let your clients help you track problems via dedicated channels.
As Vendis is still a developing product, we value any feedback from our customers more than anything else. That's why we decided not to introduce paid plans yet. Instead, we're offering free 6 months of usage for all new users. This is a one-time offer which will be ended soon, so if you're thinking of becoming a user, it might be the best time for action.
Become a user (it's free!)
Do you feel Vendis might help you optimise your business? Then give it a go! Sign up and get a full access to all Vendis features with first 6 months free of charge. No credit card required.
You can also request a trial period. Need a demo? Submit a form and get a free access to Vendis to see if it's a right tool for you.
So whom is Vendis exactly for?
Vendis was initially created with rental companies in mind. Basically, it assumes you have a lot of something (we use a term "asset" for this) and you have to maintain every unit of it. If your business model falls well below that definition, Vendis might be just the right tool for you.
What are the assets?
In general, assets are any type of equipment units that help business generate the income. It could be no matter what kind of vehicles, rental electronics, vending machines or even a real estate - every equipment unit perfectly suits in the broadest sense of a word "asset".
Can I try it?
Of course! You can get a 30-day full access to all Vendis features. Provide us with a bunch of basic info about your business via our registration form and we will set up a separate environment for you. After a trial period, we will contact you to discuss your onward usage plan.
I have too much data to migrate
No problem! We will take care of migrating your data into Vendis, no matter what format and size your database is.
I still have questions
Contact us via info@webclusive.ee and we will help you find answers for remaining questions.